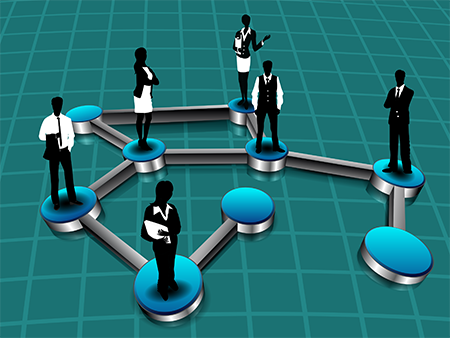 We are all very aware of how social media, general internet, and other technologies have made it easy for us to interact with each other more than ever before. We can keep up with what all of our family, friends, and coworkers are doing – knowing when they get promotions, start a new project, or even decide they have an opinion on a major news story of the day. We can get to know people better than we ever would have in the past because in addition to professional side of our colleagues we can see photos of their kids, their camping trips, and even their daily meals.
Yet, there is also a general sense of something missing – all the "more" information that we're getting from "more" friends and contacts isn't quite as fulfilling. Blog posts abound with information on how we should be putting our phones down and talking to each other again. We fear we are creating a hole in our lives – both professionally and personally.
What's the big hole from? Is it that we aren't really getting to know people better? Or is it in reality that we're just getting more information?
We are becoming acutely aware that there is more to fulfilling relationships than reading posts, seeing photos, and watching videos. Although the information can be great to have, our computer screen can become a wall that is shielding us from a certain level of knowing that is only available with in-person interactions.
So what does this backlash at an electronic society mean for systems engineering? As systems engineers and thinkers, we know that the strongest, most stable relationships between elements are the best for the entire system. In the human system, those relationships are built with face-to-face interaction with teaching, learning, and brainstorming together.
With the constant push towards convenience and lower cost, it's easy to turn our focus to web meetings, teleconferences, online forums, and other virtual connections. After all, in this day and age can't everything just be done electronically?
Virtual connections and virtual events certainly bring value in today's ultra-connected world, but our interactions with clients continue to reinforce that there is a thirst for these face-to-face occasions. We continue to attend and offer in-person events because we know that those opportunities are invaluable complements to ongoing remote conversations and electronic connections. Our clients want to meet with the engineering experts that practice our methodology, share in person what they want to see in our products, and work with each other to come away with new knowledge and techniques to make our products the best possible investment for their company.
That's why we are so pleased to announce that we will be hosting our regional Insight user event in the Washington, D.C. area September 16, 2014. We have intentionally planned to keep the event small with limited seating because we are excited to reinforce the personal connections with our CORE and GENESYS user community while ensuring you have the opportunity to meet colleagues in the field.
If you will be in the D.C. area in September and would like to join us for this complimentary methodology- and tool-focused event, please register here: https://insight2014.eventbrite.com. If you have questions, I would be happy to hear from you! Just shoot an email to me at kthacker@vitechcorp.com. You can also email me if you would like to see an Insight event in your city!
Insight DC 2014
Join us for a full day of insights, methodology, tips, and tricks in CORE while you strengthen your skill set and knowledge of MBSE within our user family. This event is specifically tailored for Vitech software users and is designed to provide the expertise needed to maximize the MBSE investment. Topics will include focus on program management, testing, compliance, and user tips for our software products as well as insights to the future of MBSE.